Credit card issues
My credit card was not accepted to make payment towards the IBackup subscription. What could be the reason?
We accept MasterCard, Visa, American Express, Discover and Diners Club cards.
This problem may arise due to the following reasons, while subscribing for an IBackup account:
Credit card number and expiry date may be inaccurate.
The online authorization system may fail certain valid credit cards outside US, during address verification.
How do I update my credit card information and pay my dues towards the subscription, if any?
To update your new credit card details and continue with your subscription,
Log into IBackup.com and click your username at the top-right corner of the screen.
Click 'Update Credit Card', under Account.
Under the Credit Card Information section, enter the new credit card details (Card Number, Card Type, Card Expiry Date, and Zip Code).
Click the 'Save Changes' button to update your credit card details.
Click the 'Apply Pending Charges' button to settle the dues (if any), towards your IBackup account.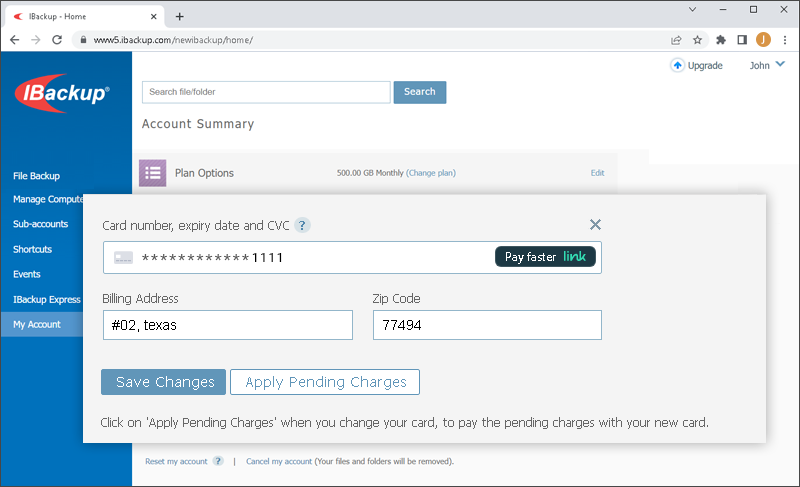 When and how do the monthly charges reflect on my credit card?
Monthly charges are deducted in the first week of every month. However, some transactions may fail due to insufficient funds at your end/other reasons.
In such cases, the procedure is repeated after a week and if this fails, then it is repeated in the middle of the month. At this point, an email is sent out to inform the account holder that the transaction did not go through or that the correct/updated credit card information is required. The final attempt is made in the last week of the month. Subsequent to this, the account(s) of the cardholder whose transactions was unsuccessful is cancelled.
Note: The charges appear under the head 'IBACKUP.COM PRO SOFTNET 1-818-403-3629 CA', on your credit card statement.