How do I update my profile?
Login to your account and click the 'Edit Profile' link to change your name, password and email address.
Can I view and restore my backed up data from web?


Yes. You can view and search for your backed up data as soon as you login to your account, from the web. Also, it is possible to directly restore any file to your local machine.

To restore a folder, click the 'Folder Restore' link.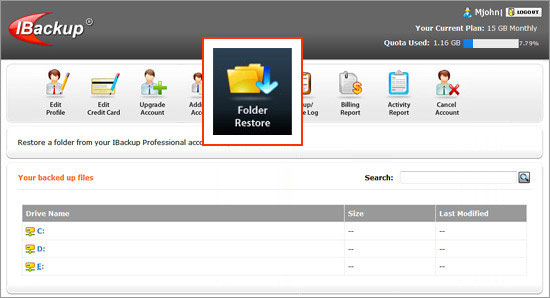 Can I view the backup/restore log information from the web?
Yes. Open the IBackup Professional website and login with your IBackup Professional Username and Password. Now, click the 'Backup/Restore Log' icon for a status on all operations. Click the 'View details' icon for details of a specific operation.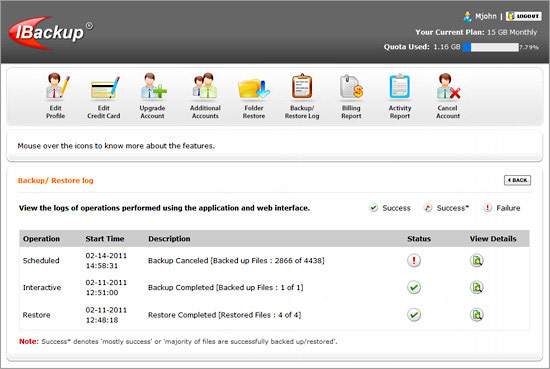 What are Additional Accounts?
Additional Account is just like a regular IBackup Professional account. The purpose is to create and manage multiple accounts for small businesses from a single administrative login.
The charges are the same as IBackup Professional plans and are billed to the credit card used for registering the main IBackup Professional account.
How can I create and manage Additional Accounts?


Login to your IBackup Professional account. Click the 'Additional Accounts' icon.

To add Additional Accounts, click the 'Create Additional Accounts' button and fill in the details on the page that is displayed.

The main account holder can edit the profile of any Additional Account by clicking the corresponding Username, view the status of data backups by clicking the 'View Backup Report' link and cancel the Additional Account(s) by clicking the 'Cancel' link.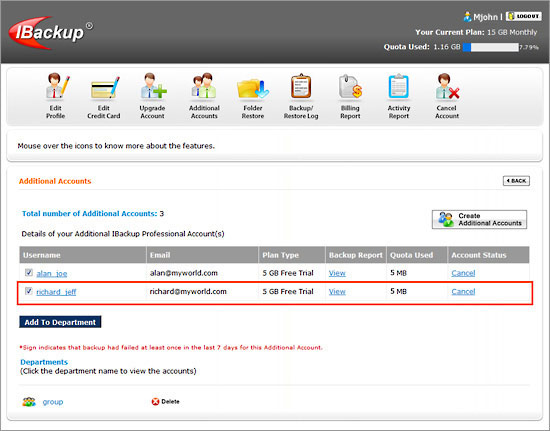 How can I group the Additional Accounts?



Login to your IBackup Professional account. Click the 'Additional Accounts' icon. Select the accounts you want to group and click the 'Add To Department' button.

Select a department from the 'Select a preferred department' list and click the 'Submit' button.

You can also add accounts by creating a new department. For this, enter a department name in the space provided under 'Create a new department', type in a name in the text box and click the 'Submit' button and add the accounts to the new department that has been created.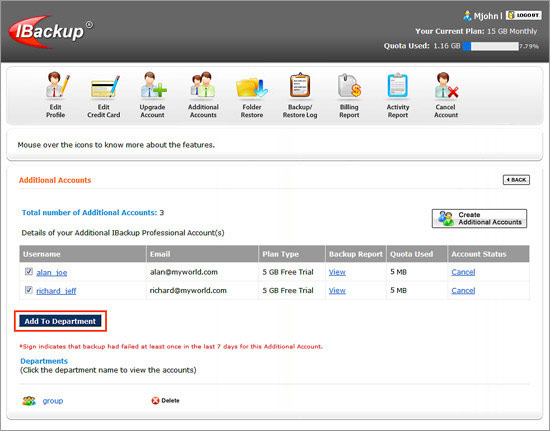 Can I change a department or delete a department?



Yes. To change the department for a particular account, select the account and click the 'Change Department' button. Choose or enter the department name. The account that you have selected will be moved here.

To delete a particular department, click the 'Delete' link next to the department. This action will only delete the department and not the accounts in it.