Rapid Serve for MS Exchange Server data
Steps to transfer your MS SQL Server data:
On the main screen, click the 'Transfer Exchange Server Data' button.
Select a temporary location on your local computer for the data transfer. Select a folder in the external device shipped by IBackup to transfer the MS Exchange Server data to it.
Select the databases that you want to transfer and click the 'Transfer data' button.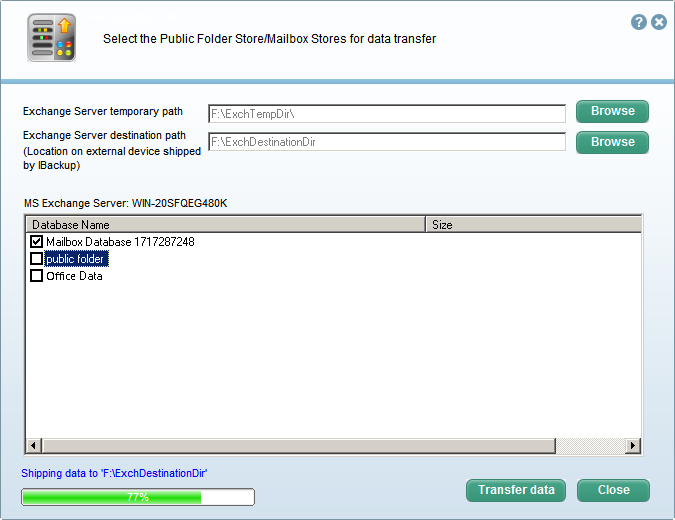 Once the data transfer is complete, you may view the logs.
System Requirements
For Exchange Server 2007
x64 architecture-based computer with Intel processor that supports Intel Extended Memory 64 Technology (Intel EM64T) or AMD processor that supports the AMD64 platform
Windows Server 2008, Microsoft Windows Server 2003 x64 or Windows Server 2003 R2 x64, Standard or Enterprise Edition, Windows Server 2003 SP1
Minimum 2 GB of RAM per server and sufficient space in the hard disk to store the MS Exchange Server database backup files (IBackupExchBackupSet)
For Exchange Server 2000
133-megahertz (MHz) or higher processor
Windows Server 2008, Windows Server 2003, Enterprise Edition or Windows Server 2003, Datacenter Edition with or without Service Pack, Windows Server 2003, Standard Edition, Windows 2000 Advanced Server or Windows 2000 Datacenter Server with SP3 or higher, Microsoft Windows 2000 Server
256 megabytes (MB) of RAM and sufficient space on the hard disk to store the MS Exchange Server database backup files (IBackupExchBackupSet)
For Exchange Server 2000
Exchange Server 2000, Exchange 2000 Enterprise Server require the following minimum system configuration
Intel Pentium or compatible 166-megahertz (MHz) or higher processor
Microsoft Windows 2000 Server, which can co-exist with Microsoft Windows Server 2003 domain controllers and global catalog servers
Exchange Server Service Pack 3
Sufficient space in hard disk to store the MS Exchange Server database backup files (IBackupExchBackupSet)