Jun 02, 2006
Store It on the Web by Jon L. Jacobi, Erik Larkin, and Steve Bass.
From the July 2006 issue of PC World magazine.
All your important files-text documents, spreadsheets, music and videos, you name it--may start out sitting safe and snug on your PC's hard drive. But what if the drive goes belly up, or runs out of room? And what if you'd like an easy way to share those files with coworkers or friends? Web-based storage services let you back up your data, store your files on a Web server, or share them quickly and simply with anyone, often at no cost. Of the 17 services we tried, our favorite backup service is IBackup.
Offsite backups are the safest way to protect data. These services are free or offer no-cost trials. However, you still must provide credit card information to access the trial versions, so be sure to cancel if you decide that a service isn't for you. Most of the fee-based services I evaluated cancel automatically at the end of the trial period, but some rolls over to the pay plan without bothering to ask for your permission first.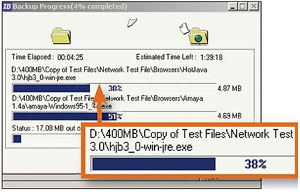 IBackup
IBackup features multimedia streaming, browser-based file management, and file sharing. However, unlike competition, IBackup doesn't require that your friends open an IBackup account to view the files you want to share with them.
IBackup's client software didn't misfire as the other client did in my tests. IBackup's IDrive feature, maps your IBackup files to a network drive to let you drag and drop files between the two.